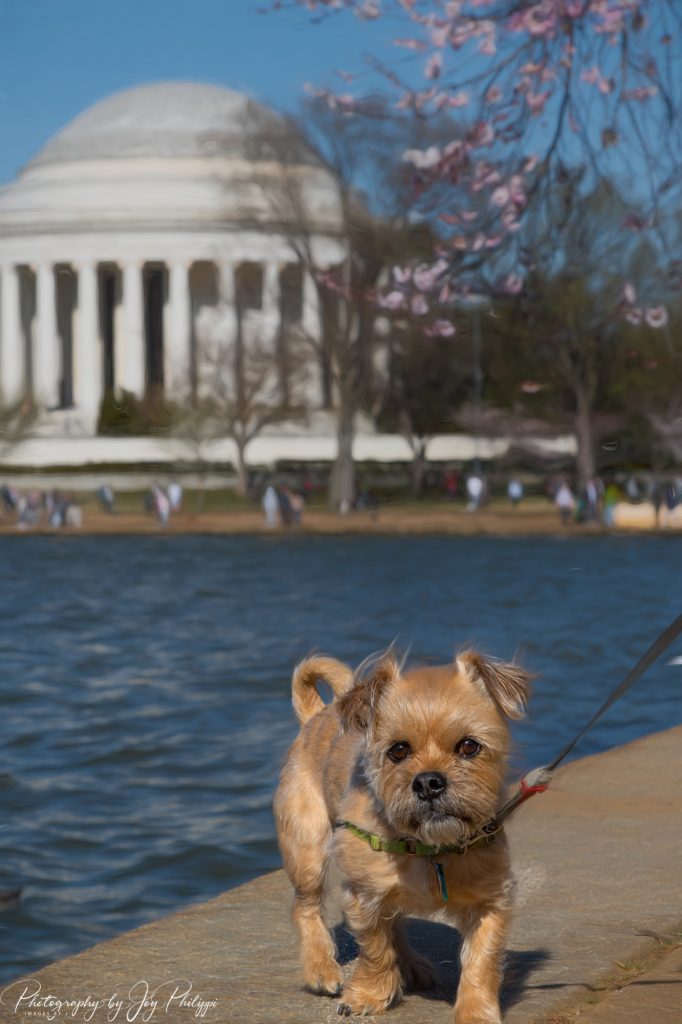 Dodger's story is one of the most beautiful pet rescue stories you will ever read. He was just a little puppy when Kelly saw him running along a freeway as Hurricane Sandy was about to hit the Rhode Island Coast. She stopped her car and began to run after the frightened pup. He kept going until he buried himself between a roadside fence and a barrier.
After she freed the puppy, they locked eyes and, according to Kelly, "that was that!" Watching them together when we did their Pet Food Institute photo shoot, there was no doubt Dodger agreed.
Dodger loves to sing and, from time to time, leads the singing at his doggy day care. When he's not leading the chorus, he can be found exploring Washington DC with his best friend. That is the reason we decided to do his photo shoot near the Jefferson Memorial under the famous cherry trees during peak bloom.
Dodger checked on the ducks swimming in the Tidal basin and smelled some pretty yellow flowers on nearby bushes. He even sang for the crowd a couple of times. He was having so much fun exploring with his favorite person that he planted a couple of puppy kisses on her cheek.
Dodger learned he could trust Kelly the day she rescued him from the storm. Before we started his shoot, we gave him time to explore and become familiar with the rush and sounds of the crowd. He needed to feel safe and relaxed before I raised my camera.
This same theory holds for people. We need to feel safe before we can relax and explore the world around us, even when there is not a camera in sight.
---
Purchase Images
If you like this image or would like to purchase images like it, visit my profile on Smug Mug.

> JOY PHILIPPI PHOTOGRAPHY ON SMUG MUG
Connect with Joy on Facebook
To keep up to date with my latest images, make sure you like my Facebook page.

> JOY PHILIPPI PHOTOGRAPHY ON FACEBOOK